Monday, July 10, 2006
i spent the weekends in a chalet at changi.. it was real fun .. in early birthday party there.. sean , torrance, clair, joy my brother and I slept over .. it was very very fun!
we spent the night watching movies like bloody mary (supposedly horror), harold and kumar( R21) -sicko, etc
then we cooked maggi noodles! i cooked it! hahah with a lot of help from clair! sean went to buy coffee! hahah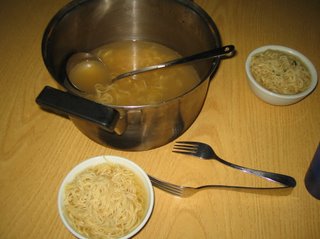 in the end, i had to wash the pot cause my darling cousin doesn't know how to !
we all went to slee at 4.30 a.m. we kept talking and telling jokes and then tried to tell each other ghost stories ....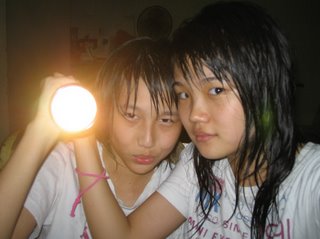 the stupid torrance told us abt the little girl.. we were the only ones in that huge chalet.. it was dark and super creepy.
look at us! ( all ready for bed !)
the next day was the massive barbeque. after cell grp, i brought my cell frens to the chalet. the guys helped to barbeque the food ! look at them in action- the fatty is my bro :) clement is fanning the satay!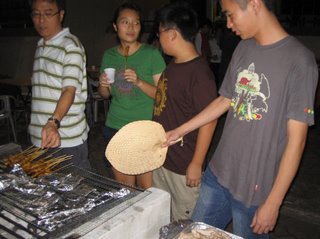 hahah.. without clement, marvin and sean.. i don't think ther'll be any food to eat...
anyway there were more than 70 ppl there .. it was really crowded and i recieved lots of presents and ang paos ( can go shopping!) .
everyone wanted to talk to the birthday girl and i had to run here and there. i didn't even get the chance to eat ... :( i was super hungry....) i was playing a fool too.. taking pictures with everyone.. just look at us ..
then it was time to sing the birthday song.. look at my cake! they spelled my name wrongly ! i was like super pissed off ... it's my birthday cake for goodness sakes !
then i took picture with the children and keith ate my cake when it wasn't even sliced up nicely yet! actually i also ate it :)
after that, we went upatairs to the room to open the pressies ! clement gave me a really nice bracelet ! i wore it the next day . i really love my cell grp.. they showered me with gifts and of course love !
this was what torrance gave to me! smart huh!
my dear clement gave me this! love it! :)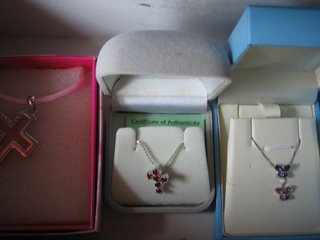 these are some of the stuff which i recieved
the next day when i went to church and listen to Dr RobbThompson , i was like falling asleep . actually i slept troughout the whole thing..i was taht tired. when i went home .. i slept from 1 all the way to 8! and i was still sleepy...
and today i had my chinese o level oral( which i screwed) and my 2.4 km run. it's like the worst day for me !
michele at 4:29 PM
0 Comments