Tuesday, October 10, 2006
i had graduation ceremony last week . it was really awesome ! i practically took pictures with everyone, even ppl i didn't know:) it was really fun . mdm azean sang breaking free for us and it ws great . the other teacher went totally out of pitch- horrifying !
we had a lot of things to prpare for our skit . we had to make a giant coke and a huge popcorn as props ! imagine phoon yu carrying them ... hahah
we had a great time rehearsing . phoon yu was supposed to be a teacher and Nicolas, ead , QQ and I had to make fun of him ... it was really funny ! i think our class put up the best performance out of the others .. we really rocked the place - all the teachers were laughing hysterically... everything went smoothly during the skit .
before that - GUESS WAT ? we had to shake the dirty hands of chua- the pink monster . i really hate chua .. he made a fool out of our belevod mr hardi and don't allow us to go to Germany . he's a horrid person .. no wondef so many teachers left the school . he is so PINK ! sicko
as i have said , i took many pictures with my frens and other ppl whom i don't really now :) weird i know but it was really fun

me and eadelin in the hall which was super hot ! we had to wear our ties too ... HOT !

pictures of me and my good frens :) we had a really great time today huh! - the fellowship of the jungle book - hahah

clockwise from the left ( phylicia , quiqi, lisa, jia yi , me and ead )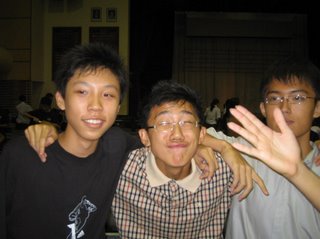 sheng wei, glendon and jin xin + wei guang's hand )
glendon's always making me laugh at his lame jokes - oh ya he loves my spectacles . he wore it during recess . he really looked like a hong kong actor - dunno his name though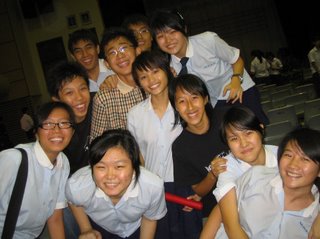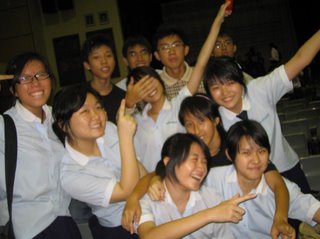 everyone together :)
i just love them !
i just love them - jie lin and wei zhi :)
we will support mr fong all the way to cola land
michele at 5:55 PM
0 Comments