Saturday, July 29, 2006
yesterday , during recess, some ppl were selling this sticky honey - i forgot what it is called in chinese but it is the honey where you eat it from 2 sticks. my fren bought it and then we sat down and talked with my frens. then i wanted to find for my wallet so i turned around . my HAIR got stuck to the HONEY ! OMG ! it was terrible. i had honey on my freaking HAIR ! my fren asked me to cut my hair off - but i didn't . i ran to the toilet with my fren and i rinsed it with water but i couldn't come out. luckily the toilet got soap so i washed it with soap . fortuanately the honey dissolved and got washed away ! it was terrible - i had the rest of the honey with me for the rest of the day
imagine this getting stuck onto your hair .. it feels just like chewing gum


then eadelin went to buy the honey and brought back to class. she went to stick the honey onto phoon yu's hair !she claimed that it was an accident but according to zsa , she ptick it into his hair and rub in more ! hahaha it was hilarious ! stupid phoon yu .
look at them at war !
had a fun time in school yesterday ... i got full marks for my math test :)
michele at 8:58 PM
Wednesday, July 19, 2006
haven't written for a long time .. anyway last tuesday i had a shock od my life..
my dear fren eadelin wrapped my present in lots of posters and pasted a huge pad on it ! she wrote happy birthday on it and it looke dused - horrible! it was super embarrassing . the present was like freaking hige.. bigger than our classroom table!
you see it?
anyway the next day we had to do our practical . while i was being very focused , titrating my potassium maganate solution , suddenly the whole room filled with smoke 1 i thought that nicholas burned down the house!
it was super foggy ! and chocking . it was the mosquito guy who went to spray that thing into our faces .. mr ong went to scold that guy! hahahah stupid freak-ass guy ... no wonder everyone's result was wrong - our solutions got contaminated! mrs teh- it's not our fault!
went to BBG last thursday . i thought here was cell grp so i went for make-up . i dunno why everytime i go to BBG i have to resign up again and agin. irritating . i'm like michael song's daughter ! how could some insolent ppl do this to me ! luckily got someone i know at the registration counter . actually i don't even need to sign-up . weird ppl .anyway, theer were koreans there! there was this guy in hot pink shirt - hahah super cute! i love koreans
anyway , i had a fun time yeaterday in the bus - with samuel, phoon yu, wei zhi.... haha .. smaule was like gaying with the "innocent" phoon yu .. just look at him - looks harmless right?
look again!
i had a fun time with them ! i was like laughing my ass out ! oh well . my parents are finally back from bankok. don't really miss them though . it's been like only 3 days. i get to do whatever i wanna do .
i'm currently watching a korean drama called my girl . i watch it for my hottie lee dong wook ! he's like so much hotter than wang lee hom! this is the difference between a chinese and a korean.. the hottness :) he's like super HOT ! the way he talks they way he moves the way he talks all fits perfectly in my list of expectations. i've made up my mind - i wanna marry someone just like lee dong wook :)
HE"S MINE ! muacks love you lots LEE :)
michele at 7:56 PM
Monday, July 10, 2006
i spent the weekends in a chalet at changi.. it was real fun .. in early birthday party there.. sean , torrance, clair, joy my brother and I slept over .. it was very very fun!
we spent the night watching movies like bloody mary (supposedly horror), harold and kumar( R21) -sicko, etc
then we cooked maggi noodles! i cooked it! hahah with a lot of help from clair! sean went to buy coffee! hahah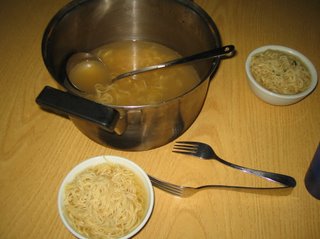 in the end, i had to wash the pot cause my darling cousin doesn't know how to !
we all went to slee at 4.30 a.m. we kept talking and telling jokes and then tried to tell each other ghost stories ....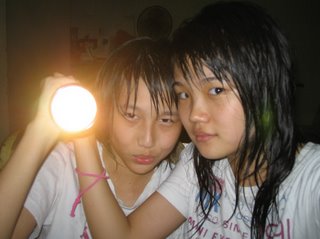 the stupid torrance told us abt the little girl.. we were the only ones in that huge chalet.. it was dark and super creepy.
look at us! ( all ready for bed !)
the next day was the massive barbeque. after cell grp, i brought my cell frens to the chalet. the guys helped to barbeque the food ! look at them in action- the fatty is my bro :) clement is fanning the satay!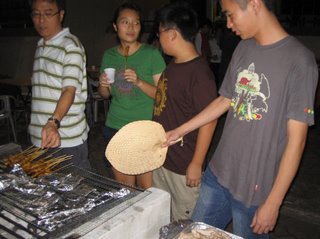 hahah.. without clement, marvin and sean.. i don't think ther'll be any food to eat...
anyway there were more than 70 ppl there .. it was really crowded and i recieved lots of presents and ang paos ( can go shopping!) .
everyone wanted to talk to the birthday girl and i had to run here and there. i didn't even get the chance to eat ... :( i was super hungry....) i was playing a fool too.. taking pictures with everyone.. just look at us ..
then it was time to sing the birthday song.. look at my cake! they spelled my name wrongly ! i was like super pissed off ... it's my birthday cake for goodness sakes !
then i took picture with the children and keith ate my cake when it wasn't even sliced up nicely yet! actually i also ate it :)
after that, we went upatairs to the room to open the pressies ! clement gave me a really nice bracelet ! i wore it the next day . i really love my cell grp.. they showered me with gifts and of course love !
this was what torrance gave to me! smart huh!
my dear clement gave me this! love it! :)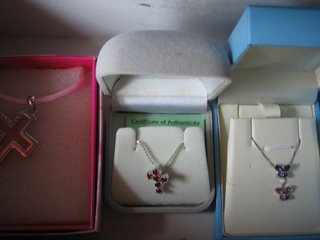 these are some of the stuff which i recieved
the next day when i went to church and listen to Dr RobbThompson , i was like falling asleep . actually i slept troughout the whole thing..i was taht tired. when i went home .. i slept from 1 all the way to 8! and i was still sleepy...
and today i had my chinese o level oral( which i screwed) and my 2.4 km run. it's like the worst day for me !
michele at 4:29 PM
my frens and i in the end went to play cards ... it was that boring .. we sat there for like a few hours. i couldn't wait for it to end . totally useless. but at least we had a free day!
we ended up taking pictures again!
then we went back to class and took pics with the monster ! then i took pics with my lesbo partner ! way to go phoon yu!
hahaha.. there wasn't any teacher in class so we were fooling around. then suddenly we heard that there was a spot-check. i heard that it was because some guy stole speakers from dunno where ... that guy must be super desperate ! haha ... weird ppl. anyway everyone panicked like crazy ! haha .. i just kept my camera, i pod and phone in my extra pencil box . hahha.. but in the end there wasn't any spot check! how ridiculous ! that's super dumb la ... everyone panicked for nothing.
i shall stop here .. and continue another one like a few minutes later .
michele at 4:07 PM
anyway coach luke taught us about fine dining . it was really interesting. since my class have like only 13 guys and 31 gals, i had to pair up with my girl fren.. hahaha ( didn't want to pair up with the guys ) . anyway, there is one rule which i learned and i'm very pleased to share it with you guys. when a girl needs to excuse herself , the guy has to stand up as well . but if a guy needs to go, the gal needn't bother at all! hahaha i love it! so the gals kept standing up and the guys had to stand up also.. it was really funny :)
anyway here's what we had ... a plate of salad , then mushroon soup ( below)
and when you're done, you have to place your spoon like this ( look below )
and that's what you have to do :)
and for our main course , we had spring chicken
15 min later .....
it was really nice.... we had brownies later on ..
yummy!
michele at 3:45 PM
Saturday, July 01, 2006
haven't written for a very long time.
anyway i went to pst ming's house during the hoildays. we had lobsters, pizzas and lots of other stuff there. and for the first time, Jayden let me carry him! he hardly every let's anyone carry him! omg! he is so cute . you might think that's he's small , but he's super violent. hahahah
seeing that i'm taking pics with jayden, the rest of the other children got jealous so all of them came rushing and wanna take picture with me! hahaha . i suddenly had so many children ! woo hoo.....
michele at 12:08 PM